ASIO loopback driver
The ASIO loopback driver is a virtual ASIO sound card that sends its output directly to the input. You can compare it to a digital connection between the input and output of a sound card. This function is ideal for feeding the signal generator into the analyzer without cables. This virtual connection has an ideal frequency response and causes no noise. This ASIO driver also works with other ASIO software such as Cubase or WaveLab.
We offer a free version with stereo 16 bit and a commercial version with 192kHz 32bit and 64 channels.
features of our ASIO loopback driver

ASIO-compatible driver that runs with any ASIO-enabled program

64 input and output channels

192kHz sample rate

16... 32bit dynamic
installation
Run the provided setup routine. It contains the driver and a configuration utility. A new driver called "ASIO Loopback" will appear in any ASIO capable program (ASIO host).
configuration
The driver includes a utility to set the number of virtual channels and bit depths.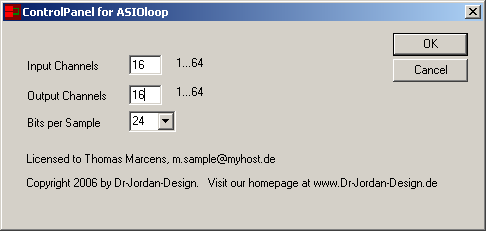 use
In the ASIO control of your host program, simply select the new ASIO loopback entry.